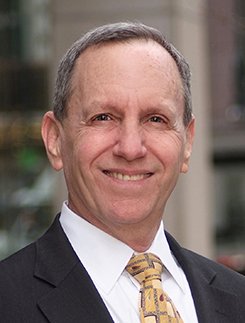 Lawrence M. Vogel, Esq. after forty years litigating and managing litigation, has decided to assist parties to resolve their disputes before the vagaries and risks of trial. Mr. Vogel wants to take the same enthusiasm and pleasure that he took in dealing with his opposing counsel and their clients and turn that energy to assisting them to resolve their disputes more quickly and efficiently. One of his strengths as a mediator is the same rapport and trust he developed with litigants and attorneys when he was a participating counsel representing both plaintiffs and defendants.
Mr. Vogel has practiced law since 1977 and is AV Preeminent rated by Martindale Hubbell. He practiced primarily in the area of personal injury litigation representing both plaintiffs and defendants. Mr. Vogel has practiced in both state and federal courts and has extensive jury trial experience. More recently Mr. Vogel worked for Allstate Insurance Company as both a trial attorney and as a regional manager for 6 staff counsel office. The experience of having worked on both sides of personal injury litigation and having the viewpoint of having overseen litigation offices and dealing with insurance company management and their claims department allow Mr. Vogel an privileged viewpoint that assists him to understand and communicate both the strengths and challenges of a case.
Mr. Vogel has represented parties in a vast number of mediations over many years. He has attended and participated in mediation and negotiation seminars including a multi-day workshop. He believes that in order for mediation to be effective, the process should allow the parties to explore alternatives to costly trials with uncertain outcomes.
Colorado and Arapahoe County Bar Associations
Former member of the Colorado Defense Lawyers Association
JD., Boston College Law School
BS., Political Science, State University of New York at Buffalo
Disclaimer
This page is for general information purposes. JAMS Denver makes no representations or warranties regarding its accuracy or completeness. Interested persons should conduct their own research regarding information on this website before deciding to use JAMS Denver, including investigation and research of JAMS Denver neutrals.