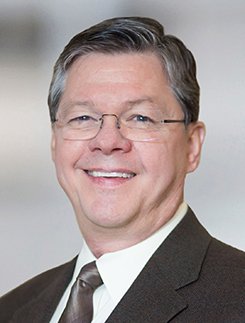 Specialties
Bad Faith
Business Disputes
Complex Civil Matters
Construction Defect
Discovery Disputes
Family Law
HOA and Neighbor Disputes
Personal Injury/Torts
Hon. Christopher C. Cross
Hon. Christopher C. Cross (Ret.) served as a county and district court judge for 18 ½ years in the most populous judicial district in the State of Colorado. He presided over domestic relations, civil, and criminal dockets. As noted by the Judicial Retention commission in its most recent evaluation, Judge Cross "received some of the highest ratings of any judge . . .in the State," and "Attorneys [and] litigants all have a high degree of admiration for his courteous and professional demeanor in the court room." One appellate judge commented, "He is one of our best." Judge Cross is known for his fairness, ability to listen, in-depth preparation, and the ability to resolve complex legal and factual issues—all with compassion and a sense of humor. Prior to his appointment, he practiced complex civil litigation, professional disciplinary administrative actions, both criminal defense and prosecution, and family law.
ADR Experience and Qualifications
National Appraiser and Umpire Association Certification course; Denver, August, 2019

NADN Advanced Mediation Training (18 hour course); Seattle, September, 2019

Regularly selected as the "neutral" arbitrator for complex civil cases while in private practice.

JAMS National three-day mediation/arbitration training; San Francisco, November, 2017
Innovated "mediation with a robe" in domestic relations court.
Frequent lecturer, teacher, mentor, and author on a wide variety of topics, including new judge training, panel discussions, and moderator of presentations.
Developed and facilitated discussions with the bench and bar, including the Colorado Judicial Philosophical Society, Courageous Conversations about Race and the Judiciary, and Promoting Diversity on the Bench.
Selected to be on the team assembled by the Institute for the Advancement of the American Legal System (IAALS) to create the standards and rules for the Civil Access Pilot Project (CAPP) in Colorado, which morphed into the new Colorado rules of civil procedure regarding discovery and better access to the courts.
Certified mediator after attending a forty-hour mediation training at the National Judicial College in Reno, Nevada (June, 2015)
Certified conflict coach after attending a two-day training course from Common Ground Mediation and Coaching, LLC (August, 2015)
Collaborative Resolution in Domestic Relations training and experience
Practice Areas

Complex civil matters, including personal injury, bad faith, business disputes, construction defect litigation, and discovery disputes
Family law matters
HOA and neighbor disputes
Special Master, Statutory Judge, Umpire
Certified Umpire through the Insurance Appraisal and Umpire Association (IAUA)
National Association of Distinguished Neutrals (2018-present)
Academy of Court Appointed Masters (2018-present)
Nominated for the outstanding district court judge award by the Colorado Judicial Institute (2015)
Member of Colorado, Arapahoe County, and Douglas-Elbert County Bar Associations (CBA Board of Governors, various years between 1989 and 2006; ACBA Board of Directors, 1998-2007, Secretary, 2002, Treasurer, 2003, President-elect, 2004, President, 2005-2006; Past-President, 2006; and ACBA Foundation Board, 2006-2008
Board member of the Criminal Law Section of the Colorado Bar Association (2014-2015)
University of Denver Sturm College of Law Alumni Council, 2006 -2012
Appointed by Governor Ritter to the Governor's Community Corrections Advisory Council (2008-2015; chair, 2012 -2015)
Lakota Outreach (one of the founders and member of the steering committee of a year-round outreach and public service to the Lakota Natives on the Pine Ridge Reservation, South Dakota, 1997-present) and other community service involvement.
County and District Court Judge (1997-2016)
Week-long classes at the National Judicial College, including complex civil litigation, financial and economic issues in litigation, evidence, and constitutional law.
Private practice, including large and small firm experience (1984-1997)
Denver District Attorney's Office (1979-1984)
J.D., University of Denver College of Law, Denver, Colorado (1979)B.A., cum laude,
Denison University, Granville, Ohio (1974)
Disclaimer
This page is for general information purposes. JAMS Denver makes no representations or warranties regarding its accuracy or completeness. Interested persons should conduct their own research regarding information on this website before deciding to use JAMS Denver, including investigation and research of JAMS Denver neutrals.